Tommy?s Daughter
Forum Member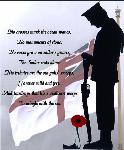 Joined: 14/11/2021 12:47:03
Messages: 1
Location: Scotland UK


Offline
Looking for my Father, also it?s a long shot but would love a photo of him in service?

His name Thomas (Tommy) Bradford his surname is usually misremembered as Bradfield or Bradshaw.
He served in RM Commandos then received an invitation to return to help with the Korean War 1950-52 which he did, Dad survived and even brought home the company mascot Rags!

I will be very grateful if anyone can help me with this..?