craig summerhill
Forum Member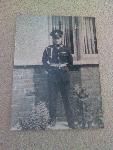 Joined: 11/01/2013 00:08:04
Messages: 129
Location: Wales


Offline
Looking to see if there is an official nominal roll for 45 in existence. Mums dad was in 45, I have re applied for his records from R.M.
ORiginally applied 20 years ago, but his basic details were sent out, found out I couldn?t have full service details as he hadn?t been deceased for 25 years.
Any info on Troop numbers, names would be appreciated.
I have identified him in the photo collection of Sgt Noakes MM, R.M. As in 45.
Name is Cpl Jack Wiliams. PO/ X 111957. Portsmouth rating. Also served in HMS Oddyssey and NP1749.
Filename

2C5BE798-ADEC-4CD4-A5A0-C46338AB6785.jpeg

Download

Description

Jack sat in lorry.

Filesize

97 Kbytes

Downloaded:

264 time(s)