Alan Orton
Forum Sergeant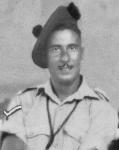 Joined: 24/09/2010 06:18:51
Messages: 96
Location: Leamington Spa, Warwickshire.


Offline
Whilst re-reading Michael Ashers book 'Get Rommel' there are mentions of an L.J. Codd, 'Larry' as being on Operation Flipper as No.2 on a Bren gun and that he subsequently became a P.O.W. however i cannot find a record of him in the WO 417 files as being reported missing for this period, the only L.J. Codd i came across was 2332748 Sgmn. L.J. Codd, R. Signals reported as missing 6th June 1944 whilst serving with 2 Commando.
Both Nominal Rolls 2 and 11 have this man listed so is it the same chap?
If it is then how did he get to serve with 2 Commando? Did he not go on Flipper or did he actually escape capture? As far as i know of those who landed only Laycock and Jack Terry made it back along with John Brittlebank of the S.B.S.
Any ideas?
There are 2 others from the list i have compiled of those who actually landed including 9 that do not appear in the Nominal Roll at the end of the book.
Terry O'Hagen the only name i can see that fits the the bill is J.A. O'Hagen and in later files it is O'Hagan, the date of the casualty return is not recorded but fits in with the dates of the other names, November 1941.
E.C. Atkins of the Beds and Herts Regt. is named as a Medical Orderly in the book but the only E.C. Atkins for this Regiment is dated 1943.
The names i have found who were on Flipper but were not recorded in the book are as follows;
3063118 L/Cpl. L Stables, Royal Scots,
46720 Sgt. W. McAdam, Cameronians,
2886105 Cpl. A. Beattie, Gordons,
2884454 Pte. A. Davidson, Gordons,
2880400 Pte. J. McKenzie, Gordons,
3319006 Pte. D.M. MacQuarrie, Gordons,
2877544 Pte. R. Murray, Gordons,
2332752 Dvr i/c D.H. Stocks, R. Signals,
2934226 Pte. T.C. Fraser, Q.O.C.H.,
2937948 Pte. J. Hamilton, Q.O.C.H.

Not related possibly?

1453760 Gnr. Albert Edward Foster R.A. reported missing 26 January 1942 later confirmed as a P.O.W.

3130762 U/A Cpl. Hugh Wallace Royal Scots reported missing at sea 5th December 1941.


Alan.